Technology is touching every aspect of the construction industry including the roofing field. Though some of the trends expected to impact the roofing industry in 2017 are based on the decisions being made by homeowners and contractors, other have been pushed by the advancement in technology. 2017 will certainly be an interesting year for roofing, here are some of the roofing trends to expect.
1. Green roof
Green roofs also known as living roofs offer a way to grow vegetation and greenery on the roof. If you are looking for an eco-friendly roof and you are not planning to install solar panels, a green roof is a great option.
Green roofs are becoming more and more common with major cities such as D.C, Washington, Oregon and Portland offering incentive to install them. Smaller suburbs such as Staten Island and Brooklyn also showing trends towards green roofing.  This type of roof is a great option for anyone who wants a garden but does not have space on the ground. No matter your aesthetic, it will be a cool thing to install in 2017. You can plant anything you like but grasses, flowers, self seeding plants are the easiest to maintain.
The technology of installing a green roof involves fixing a thick waterproof membrane to protect the home from water leaks and drainage system.
2. Solar Roofs Popular in Orlando, Florida and Other Areas in the South

Solar panels are growing in popularity throughout the Southern US, including hotbeds of Orlando, FL and New Orleans, LA.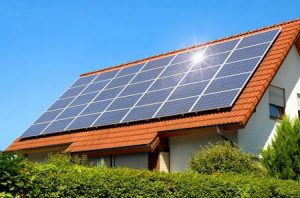 Previously, the only way to get solar power in your home was by installing large blocks of solar panels on the roof or on poles in a section of the yard that gets sunshine. While the energy saving offered by solar panels is great, the panels themselves were bulky and unappealing.
Today, instead of installing large solar panels on the roof of your home, roofing contractors can now install a stylish solar roof made entirely of solar panels. Since the roof is installed on all corners of the house, it continuously captures more energy and you do not have to worry about setting aside a section of your yard.
In 2017, we expect to see more of solar roofs in an attempt to save a few dollars on energy bill.
3. Roofing tiles
Though asphalt shingles are still quite popular as roofing material due to their ease of installation and low price, they have a shorter lifespan; about 7-15 years and they are adversely affected by climate change.
Roofing tiles are gaining massive popularity in 2017. This is because they are also affordable and are more appealing not to mention their durability- they can last anywhere between 20-25 years. However, they require structural support because they are quite heavy.
4. Slate Roofs
Asphalt shingles are in immediate danger of being completely replaced in 2017. This year, we expect to see less of asphalt and more of slate installed in homes. Slate is being preferred because it lasts longer than asphalt when taken care of properly and it has low maintenance cost.
5. Lighter Roofs
Roofs play a big role when it comes to reducing energy bills and keeping homes cool. A trend that began in mid 2016 and is expected to continue in 2017 is installing roofs made of lighter color materials. Dark asphalt make the house warmer by absorbing heat but lighter colors will reflect heat and make things easier on the ceiling fan and air conditioning unit.